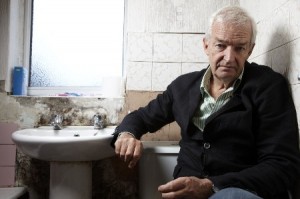 Related Articles
New research from Shelter highlights just how powerless private tenants feel when facing problems with their landlord.The YouGov survey, commissioned by Shelter, revealed that:
7.5 million (16%) people have had issues with their landlord in the last ten years.
3 million (41%) of them say they tried to talk to their landlord but they did nothing.
Further research also exposed the shocking fact that 550,000 people (7%) said they did nothing because they were scared of the consequences.
These worrying figures come on the same day a Channel 4's Dispatches programme (Monday 4th July at 8pm), exposes the shocking treatment of tenants at the hands of Britain's worst landlords. It will investigate a range of underhand tactics adopted by landlords including renting out dangerous and squalid properties and illegally renting out sheds.
The chronic shortage of social housing and an unaffordable housing market means now 3.4 million people in this country rent, a massive 40 per cent rise in the past five years. With cuts to housing benefit and changes to the homelessness safety net, Shelter is also concerned vulnerable families will be pushed into the bottom end of an unregulated private rented sector unprotected from a minority of rogue landlords who may look to cash in.
Campbell Robb, Chief Executive of Shelter said: "It is wholly unacceptable that people are left to live in conditions like those exposed in today's programme. Throughout this campaign we have been continually shocked at the treatment tenants receive at the hands of these unscrupulous operators. What is more worrying is that this research shows just how many people are being affected by rogue landlord practice."
Further investigation revealed that 31.1 million (66%) of people surveyed, agree that they want stronger and clearer rules for landlords to protect private tenants.
Mr Robb adds: "The government have to recognise their responsibility to protect this vast and growing population of private tenants, especially when our research has proved that Generation Rent want better rules to protect them.
"We urge the housing minister to work closely with all local authorities and ensure they are using every weapon in their armoury to crack down on unlawful operators, like those exposed in Dispatches. It is absolutely essential that we are sending a clear signal to tenants, landlords and local authorities that enforcing the law against rogue landlords is a priority."
The programme 'Landlords from Hell' airs at 8pm on Channel 4 on July 4th and Shelter are encouraging people to watch the programme and join the campaign to end the misery caused by rogue landlords at www.shelter.org.uk/roguelandlordspetition
'Landlords from Hell' will be shown tonight at 8pm on Channel 4 or catch it later on 4oD.
Note from Editor.
If you are visiting this site after watching the Dispatches programme, please take a look at links below. They are just a few examples of how local and central government deal with poor housing standards:
Below are examples of tenants who have addressed housing issues themselves: