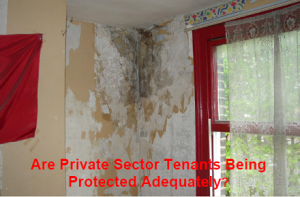 Related Articles
A new report by Dr Stephen Battersby (current President of the CIEH) questions whether Local Housing Authorities are adequately protecting private sector tenants.
The report entitled 'Are Private Sector Tenants Being Protected Adequately?' (The Battersby Report), was prepared by Dr Stephen Battersby for Alison Seabeck MP, Shadow Housing Minister and Karen Buck MP, Shadow Work and Pensions Minister. It is based on an analysis of Freedom of Information Requests sent to local housing authorities in the autumn 2010.
In these requests, information was sought on service requests for house inspections; the actual number of inspections undertaken; the frequency with which the most common hazards under the Housing Health and Safety Rating System (HHSRS) as identified by the government"s English Housing Survey plus the hazard of Crowding and Space, were identified in practice; and subsequent action to remedy these hazards. The information sought covered a three-year period to 2009/2010.
The Battersby Report is based on the following returns:
173 Districts including Unitary Authorities (out of 257) (67%)
24 London Boroughs (out of 34 including the City) (71%)
24 Metropolitan Districts (out of 36) (67%)
Key findings of the report are:
The information sought was not always readily available, if at all, and could only be found at disproportionate cost.
There appeared to be no consistent way that records were kept.
The fact that information was not readily available indicates that such figures are not used as a routine in monitoring performance against strategic or other objectives and appear not to be used in developing housing renewal strategies.
Crowding and Space is potentially an increasing hazard, particularly in some parts of the country such as London.
Informal action is the most common route taken by local authorities in dealing with hazards.
Overall the level of enforcement activity, including informal action is at a relatively low level in the context of housing conditions as identified in the English Housing Survey.
Given the lack of security in the private rented sector and reluctance of tenants to complain, it is probable that those who feel most insecure and vulnerable (and at risk of retaliatory eviction) will not complain and so local housing authorities may not be dealing with the worst housing conditions, nor the most irresponsible or worst landlords.
Reliance solely on complaint before intervening increases the risk of retaliatory eviction when action is taken.
Analysis of the returns suggests that at best, less than 10% of the dwellings with Category 1 hazards are dealt with in any year.
The PDF version of the report  is available here.