The Health Protection Agency (HPA) have revealed that over 90% of Campylobacter food poisoning outbreaks at catering venues in 2011 were linked to chicken liver pate consumption. The Food Standards Agency (FSA) is reminding caterers to cook poultry livers thoroughly to avoid the risk of food poisoning.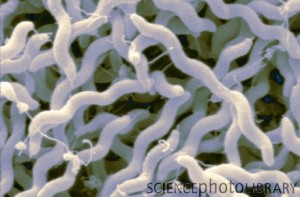 [relatedPosts title="Related Posts"]
Across a total of 18 outbreaks of Campylobacter infection in England this year, 443 people became unwell and one person was hospitalised. Poultry livers carry a particularly high risk of Campylobacter as the bacteria can be present throughout the liver, not just the surface as is the case for poultry meat, and may remain a source of infection if they are not cooked sufficiently.
14 outbreaks occurred in catering venues and 13 of these were linked to chicken or duck liver pate. The outbreaks occurred across England and seven were linked to wedding receptions at hotels, banqueting venues or public houses and six were associated with catering at other functions such as hotels, clubs and restaurants.
HPA investigations into these outbreaks revealed that livers used to make the parfait or pate were undercooked allowing the liver to remain pink in the centre. Chefs and other caterers can reduce the risk of their customers becoming infected by ensuring that Campylobacter is killed through proper cooking and by avoiding cross-contamination to other foods.
Bob Martin, head of foodborne disease strategy at the FSA, said: "Unfortunately, levels of Campylobacter in most raw chicken are high so it's really important that chefs cook livers thoroughly to kill any bacteria, even if recipes call for them to be seared and left pink in the middle.
"The only way of ensuring the pate or parfait will be safe to serve to your guests or customers is by cooking the livers the whole way through. Caterers should also follow good general hygiene practices when cooking and handling poultry livers, to avoid cross contamination with Campylobacter."
Campylobacter is the most common cause of bacterial food poisoning in Britain and there were estimated to have been more than 600,000 cases in 2010 just in England and Wales. Symptoms include diarrhoea, stomach pains and cramps, fever, and generally feeling unwell, though vomiting is uncommon. Illness suffered by most cases start to clear up after two to three days of diarrhoea and 80 to 90 per cent recover within one week. Severe long-term after-effects following infections are rare but do also occur.
This increase in the number of outbreaks linked to undercooked chicken liver pate has been continuing since 2009 when the number reported trebled to nine from three in 2008, and increased by a further 36% by 2010 when there were 14 outbreaks.
Dr Christine Little, an expert in gastrointestinal infections at the HPA, said: "The increase in outbreaks which are due to the consumption of chicken liver pate has been steadily increasing over the last few years. Not only is this dish popular in food recipe magazines it is being served in a variety of different catering venues.
"Illness occurs because the livers are only cooked until they are pink and inadequate cooking will not be sufficient to kill the bacteria. Both the public and the catering industry need to be aware that undercooking this product can result in food poisoning.
"If you are planning a wedding or other special event and are planning on serving chicken liver pate you need to liaise closely with your chef on how the dish will be cooked otherwise there is a risk that people could become unwell."
---
Further Information
The Food Standards Agency guidance on cooking livers can be found here
Details of the Food Standards Agency's Campylobacter Risk Management Programme, which is targeting a number of actions at points along the food chain to reduce levels of campylobacter in UK produced poultry, can be found here