BS 9991:2011 Fire safety in the design, management and use of residential buildings. Code of practice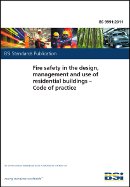 BS 9991:2011 gives recommendations and guidance on the design, management and use of the following building types, to achieve reasonable standards of fire safety for all people in and around:
Dwellings (single-family dwelling houses, self-contained flats or maisonettes);
Residential accommodation blocks (e.g. for students or hospital staff), with individual bedrooms and the provision of kitchen/sanitary facilities constructed within a fire compartment, accommodating not more than six persons;
Sheltered housing and extra care housing.
It is not applicable to hotels, caravans/mobile homes, hospitals, residential care/nursing homes, places of lawful detention, hostels or houses of multiple occupancy.
BS 9991:2011 is applicable to the design of new buildings, and to material alterations, extensions and material change of use of an existing building. It also provides guidance on the ongoing management of fire safety in a building throughout the entire life cycle of the building, including guidance for designers to ensure that the overall design of a building assists and enhances the management of fire safety. It can be used as a tool for assessing existing buildings, although fundamental change in line with the guidelines might well be limited or not practicable.
Contents for BS 9991:2011 includes:
Section 1: General
– Introduction
– Scope
– Normative references
– Terms and definitions
– General recommendations and background
Section 2: Designing means of escape
– General
– Means of escape and provision for rescue from houses
– Means of escape from flats and maisonettes
– Means of escape from sheltered, extra care and other special housing
– Internal planning of flats
Section 3: Stairs and final exits
– Number and siting of common stair
– Width of common stairs
– Enclosure of common stairs
– Basement stairs
– Stairs within mixed-use developments
– Access lobbies and corridors to protected stairways
– External stairs
– Discharge from common stairs and final exits
Section 4: Access and facilities for fire-fighting
– General recommendations for fire-fighting facilities
– Fire-fighting access
– Water supplies for fire and rescue service fire-fighting use
– Information for fire and rescue service use
Section 5: Active fire protection
– Fire detection and alarm systems
– Sprinkler and watermist systems
– Manual fire-fighting equipment
– Special risk protection
– Smoke control
Section 6: Design for construction
– Fire resistance
– Compartmentation
– External fire spread and building separation
– Concealed spaces
– Materials
– Service ducts, pipes and shafts
– Glazed fire-resisting elements
– Active fire curtain/barrier assemblies
– Openings
– Floors and ramps on escape routes
– Design and construction of common stairs
Section 7: Mechanical systems for ducted heating, ventilation and air conditioning (HVAC)
– HVAC systems within individual dwellings
– HVAC systems serving the whole building or interconnecting dwellings and other residential units
Section 8: Ancillary accommodation to flats and maisonettes
– Ancillary accommodation
– Installation of engineering services
– Engineering service installation rooms
– Gas services, installation and service pipes
– Electrical services
– Gas and electricity meters
– Lighting
– Lift machine rooms and machinery spaces
– Communal heating, ventilation and air conditioning systems
– Refuse storage, disposal and incineration
– Car parks and domestic garages
Section 9: Management
– Management of sheltered housing
– Evacuation of disabled occupants or occupants that require assistance to escape
– Residents
– Caretakers
– Maintenance of fire protection measures
– Maintenance of building plant and equipment
– Ensuring that systems respond properly in an emergency
Section 10: Building works: Material alterations, extensions, refurbishment, change of use, disuse, decommissioning and demolition
– Design of works
– Change of use
– Refurbishments
– Dwellings in disuse and areas decommissioned
– Managing building work and material alterations
– Building works to occupied or partly occupied buildings
Supersession
This British Standard supersedes BS 5588-1:1990, which is withdrawn.
Relationship with other publications
This standard complements BS 9999, Code of practice for fire safety in the design, management and use of buildings, which excludes individual dwelling houses from its scope.