We recently reported that Camden Council had prosecuted a struck-off solicitor for failing to license a property let to 12 people (view article). We have been provided with a detailed case summary that shows just how complex housing prosecutions can be.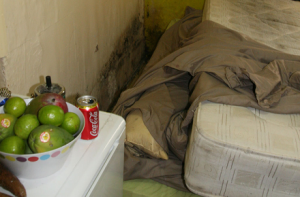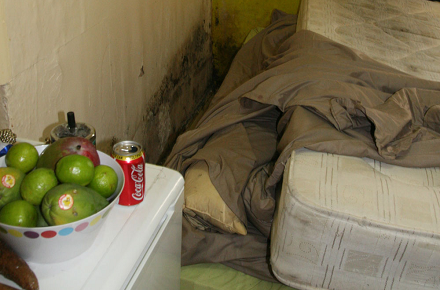 [relatedPosts title="Related Posts"]
In addition to the main narrative, this case summary includes advice for officers (highlighted sections) who are investigating or preparing HIMO prosecutions. For those who wish to know more, the investigating officer (consultant Michael Warren) has provided his witness statement for this case.
Case Summary
I am employed as a contractor EHO, via my company and currently specialise in Housing Act enforcement.   In Camden, most HMOs are valued at more than £1m, so landlords are wealthy and can afford good barristers.  I assist less experienced colleagues in tackling the most complex cases, and take the brunt of the cross-examination, if the case officer prefers, until they gain confidence.
The HMO in  St. Augustine's Road, London NW1 9RL is a semi-detached house comprising separate basement occupied by 4 un-related men, and a set of steps leading up to front door.  Inside there was a large hallway, with let rooms off, a staircase up to the first and second floor rooms, and door giving access to cast iron rear staircase leading down to the rear garden. The property is in a Conservation Area, with no planning consent for use as an HMO.
The most important aspect of HMO enforcement is to unravel the financial interests and the transfer of rental payments between them.  Unlike previous HMO management regulations, the current 2006 and 2007 regulations align the definition of 'manager' with that of 'person managing' in s263(3) of the Act.  This means that instead of merely demonstrating a defendant's involvement with a property and its tenants, you have to show that they derive a rental income from the property.
The freehold owner lived in Nigeria and did not appear to be involved in the practical management of the property. He appeared to have appointed defendant 1 to manage the property on his behalf.   Putting her name into Google revealed that she had been struck off by the Law Society, had been convicted and imprisoned for offences relating to fraud and money laundering, and was married to a convicted fraudster.  It was clear from colleagues that prior to the date of the offences, she had been actively involved in managing and converting the property, without planning and building consents.  As a result of these convictions New Scotland Yard Asset Recovery Team visited us to obtain information.  One of the Letting agents supplied us with a letter explaining that they were instructed to hand over these monies in cash at bus stops and garage forecourts, presumably to avoid them being recovered.
There were 2 letting agents involved, who were not involved in the management of the property, but were employed to attract tenants, obtain references, collect and hand over the deposit and initial rental payment.  A third agent, defendant 2 was employed to manage the HMO and to collect subsequent rental payments.  It was easy to prove that he was a 'manager'.  He completed a Local Government (Miscellaneous Provisions) Act s16 notice to that defendant 1 turning up with large men to evict tenants, collect rents in cash and showing new tenants their accommodation.  All tenants were instructed to return their AST tenancy agreements, which listed her as 'landlord'.  Replacements were not issued.
The case officer obtained specific authorisation from the Asst Director, under s239 to enter and inspect. We arranged to enter, without notice under s239 in order to ascertain whether there was an HMO licensing offence and/or management offences.  Subsequent visits to undertake HHSRS inspections were arranged, having given at least 24 hours  notice of intended entry.
Prosecutions under Part 1 of Housing Act & Management Regs

If you are intending to prosecute for management offences, and intend to serve a notice/order under Part 1 of the Act, do not serve the notice until after the dates of offences, and preferably after the laying of the informations.  If you serve the notice first, the defendant may use the time period in the notice as a 'reasonable excuse' for not having carried out the works.  Similarly do not offer a grant as the period after grant approval, to carry out the grant works may be used as an excuse.  If the defects giving rise to the management offences overlap with the hazards in the notice, you may end up with arguments about duplicity if you end up prosecution for non-compliance with the notice and matching management offences.
In order to convict for an HMO offence you must prove each element of the relevant part of s254.  We took photographs of each room to show how each room was separately occupied.
Photographic Evidence

If you use a digital camera, take the memory card straight to a premises, such as Snappy Snaps where they are printed on site.  If you post off images, it is impossible to prove integrity of evidence.  Store your images onto your computer after they have been downloaded into the processor's computer, because once you have downloaded them onto the Council's server, others may access them and theoretically alter them.  I instruct the lab to print the full image, without alteration onto matt 6" x 4" en-prints and get the manager to sign a statement confirming when I delivered the data card, my receipt number and when I returned, presented the receipt number and collected the prints, and that the image content had not been altered in any way.  Having collected the prints they are inserted into a labelled portfolio, exhibited to my statement.
We therefore took s9 statements from a range of tenants setting out when they moved in, who they paid rent to, how it was paid, including photographs of instructions to pay rent into a particular account, whether they occupied their room as their only or main residence, who else occupied the house, whether, and when they reported disrepair and to whom.  These statements all reinforced each other, and were backed up by photos of receipts, and text messages giving instructions to pay next rent instalment into another account.
Evidence from tenants

It is vital to record details of tenant's mobile phone numbers and email addresses, because when the two defendants entered not guilty pleas they demanded that all witnesses attend court.  Because the management regulations require the tenant to avoid damaging anything, it is useful if the tenant can show that the defect was present when they moved in, or that they reported it.  That undermines the landlord's defences that the tenant damaged it, or they were unaware of the defect.  If a landlord regularly visits the property, include that fact in the tenant's statement.
One of the offences was failure to apply for a mandatory HMO licence because the property was 4 storeys high and was occupied by more than 5 households.  The case was delayed, possibly to avoid tenants pursuing Rent Recovery Orders because of the 12 month limitation associated with such Orders.
The Council sends out an HMO licensing pack where it suspects that properties are un-licensed HMOs.  After a reasonable time, enforcement kicks in.  In this case there were so many apparent contraventions of  The Housing (Management of Houses in Multiple Occupation (England) Regulations 2006, that a 'Letter of Alleged Offence' in the form of a PACE letter was send to the parties, and Housing Act 2004 section 235 notices requesting documents were served and ignored.
This case was unusual because the defendant's legal representatives demanded the attendance of all those who had provided witness statements.  When the trial neared, we were unable to contact some tenants from the mobile phone numbers and email addresses supplied, and others were abroad.  Some promised to attend, but failed to turn up on the day. In such circumstances the court may refuse to take into account evidence contained in s9 statements if the witnesses do not attend.
The few tenants who did give evidence were marvellous.  They gave a detailed account of the defendant's involvement with the property, including throwing their possessions out, entering their rooms, without notice, when they were asleep, payments of rent.   It is very rare for landlords to demand the attendance of tenants to give evidence, but in all my cases where it has happened, the tenants have holed the landlord's defence below the water-line.
In this case defendant 1 claimed, under cross-examination, that she was not managing the premises at the time of the offences.  She was merely protecting her client's interests.  When asked why then she had signed a notice to quit and collected rent from an Italian tenant, she gave evidence under oath that she was only involved because she spoke Italian and the tenant did not speak English – completely forgetting that the same tenant had given evidence the previous day in fluent English.  She also forgot that she had been struck off and could not operate as a legal representative!  This evidence did not help her credibility.  Particularly when combined with her legal representative's application  for an adjournment on the afternoon before the trial, on the basis that she was in Nigeria to attend a funeral – only for her to appear in court at 09.30 a.m. the following morning!
The evidence supplied by the Council, such as my photographs were not challenged. If your photographic evidence and other exhibited evidence are clear, properly stored and labelled, the defence has to look for procedural errors.  The most difficult evidence to obtain is following the money from the tenants to the defendants.
Issues associated with proving that the property was an un-licensed HMO

You have to prove each element of s254 to show that it was a house in multiple occupation.  I attach a copy of my statement of evidence in this case to show how this was achieved.
Issues associated with enforcing management regulations

The starting point is that you have to prove that the property was an HMO.  That includes proving each element in s254 for the 2006 regulations, or s 259 for the 2007 regulations.  Secondly you have to prove that each defendant fulfilled the definition of 'person managing', in s263(3) of the Housing Act 2004.  You then have to prove the offence.  If you are showing that the property is a 'converted house', it may help to exhibit the census return after the property was built to show that it started as a house belonging to a family and their servants, before later becoming an HMO.

Previous management regulations referred to lack of maintenance/cleanliness or disrepair  of existing items.  The new Regulations still do that, but also now refer to hazards created by missing items.  So Regulation 4(4) relates to the failure to take safety measures to  protect occupiers.  I have successfully prosecuted landlords and their agents in situations where fire precautions were missing, where hazards such as washing machines are placed in the fire escape route, where flammable items are stored within the escape route or in unprotected cupboards off it, where electrical hazards, or exposed asbestos can result in harm.  In this case Regulation 4(4) was used for.
Issues associated with enforcement of electrical hazards

It is difficult to deal with many electrical hazards in the new regulations.  In previous generations of regulations a socket hanging off a wall, broken electrical component exposing live conductors was easy to deal with.  Now the main offence (Reg 6) is for failure to have and supply an electrical test certificate.  The new certificates are much better because parts of the circuit omitted have to be identified.  Older certificates could just sample a proportion of the installation and thereby neglect to refer to obvious defects.  Many defects could have arisen since the last test report was drafted.  Regulations 7(2)(f) and 8(2)(b) refer to defective fixtures, fittings and appliances, but only if they fall within the definition of 'fixtures fittings and appliances' in Reg 2.  So a smashed power point on a staircase landing, used for the vacuum cleaner is not covered.  If you can prove that the electrical system contains so many category 1 and 2 faults that the occupiers are likely to be injured, use reg 4(4)(a) or (b).
Presentation of evidence

It is best that two officers are involved in the case, as this reduces the risk of the defendants deliberately misconstruing conversations.  It is important to decide before the prosecution visit, the roles of the officers i.e. who will take photographs, take notes, draw the layout plans, take witness statements from residents.  Although you may have witnesses from other parts of the Council giving evidence re housing benefit, planning, building control issues, having umpteen EHOs involved in a case ties up resources, and gives the defence to get witnesses contradict each other.

During the inspection, if the landlord is present, tenants may be reluctant to give statements, and it may be best to arrange to meet them again to discuss the implications of your action and take statements.

After the inspection, a PACE letter will be sent, listing all of the apparent contraventions, and asking questions designed to identify the defendant's likely defence arguments.  A s235 notice requesting documents, in relation to parts 1 to 4 of the Housing Act 2004, can also be served.  Poor drafting of the Act meant that you cannot request documents specifically related to management offences as s235 did not include Part 7 of the Act.

Usually, we will then let the case lie for 6-8 weeks before re-inspecting.  If the defendant addresses all of the offences during that period, the case will be dropped, but if no action is taken, and the property continues to deteriorate, the second inspection will be undertaken.  Offences will be drafted from both inspections, so that the reasonable excuse defence is undermined and the evidence from both inspections can be used in court.  After the second visit, another 'letter of alleged offence' will be sent.

It is best to agree, who will prove the offences and who will give the background evidence.  I find it easier to draft the offences, then I can prove them in chronological order at the end of my statement..  Having drafted a list of offences and agreed their wording, the solicitor pastes them into the format of the summons.  If the summonses are laid in the same order, it makes it easier for the court to follow, if offences are subsequently withdrawn in exchange for guilty pleas to the remaining offences.   The case officer provides the historical background to the case, starting with the complaint and leading up to the visit, exhibits most key correspondence and key documents such as Land Registry and Companies House searches.  They present their inspection evidence in the order that they inspected the property.  It gives them the opportunity to give evidence in court, gain confidence, without being torn apart under cross-examination.  If I am proving the offences, my statement will prove each element of the offence and explain the significance of the defects/shortcomings found, but will not be cluttered with all the past correspondence.  The defence team will target me.

Each witness should clearly exhibit their documents as (Exhibit JB / 01) in bold, so that exhibit references stand out.  The JB is their initials and the number relates to their exhibit number in chronological order.  Each witness can then refer to each others' exhibits without giving the same document several different references.
---
Further Information
British Standards relating to HIMOs:
.