This publication follows on from and updates an investigation completed in 2006/7, funded by the Chartered Institute of Environmental Health and the Department for Environment, Food and Rural Affairs.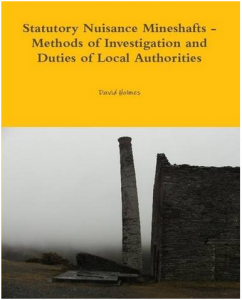 Buy now at:
The original investigation had the aim of establishing the awareness of Local Authority Environmental Health Departments of the issue of Statutory Nuisance mine shafts. The purpose of this publication is to provide an update in terms of legislation, recent events, technology, to act as a more concise reference document on the duties of Local Authorities and others, and to update the best practice in terms of inspecting and securing Statutory Nuisance mine entrances.
Mine shafts, adits and other abandoned workings can cause significant risks to the public. Few, if any, records exist for many old mines showing the extent of workings and locations of entrances. Openings into abandoned mines can constitute a Statutory Nuisance requiring action by mine owners, landowners and Local Authorities.
This publication illustrates many of the issues around abandoned mine entrances, the Legislation, guidance available and sources of information. While aimed at Local Authorities, it is of use to anyone with responsibility for abandoned mines, such as landowners, managers, occupiers etc.
Practical Guidance is offered in locating and identifying abandoned mines, applying the Legislation, where to find help and information, heritage and conservation issues and in securing any open dangerous miner entrances discovered