Office for National Statistics figures show that fire deaths in England have continued to fall, with 5% fewer deaths than last year, continuing a trend that has seen nearly a 40% drop since 2004.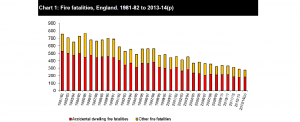 [relatedPosts title="Related Posts"]
There is also a similar reduction in the number of people injured in fires, which has fallen to less than half the number of casualties in 2004. The safety standard for cigarettes introduced in November 2011 would appear to be having an impact on reducing accidental fire death caused by smoking products. The numbers of fatalities due to cigarettes are now around 15% lower than before the introduction of the safety standard. Non-fatal injuries have also fallen by a similar amount.
This a testament to the success of fire safety campaigns and the hard work done by fire and rescue authorities around the country, and others, to increase awareness of fire safety and prevent fires from breaking out in the first place.
The figures also show that last year, fire and rescue services attended 170,000 fires, the second lowest number of fire incidents ever recorded.
Commenting on yesterday's figures, Fire Minister Brandon Lewis said:
"People are safer than ever before. This reduction in the number of people hurt or killed is very welcome and I am particularly pleased that it continues a long-term downward trend. It is a tribute to those who have worked hard to raise awareness of fire safety and increase the use of smoke alarms.

The award-winning Fire Kills campaign, run in partnership with the fire and rescue services, urges all householders to test their smoke alarms, and those of people who need help, on the first of every month – and, as an added boost, when they change their clocks twice a year. The campaign launched a new online video and sent round a testing reminder via Facebook on 1 July. You are at least 4 times more likely to die in a fire in the home if there is no working smoke alarm so this simple action saves lives."
The Fire Statistics Monitor is published annually and the figures for April 2013 to March 2014 are now available here.