Welcome to theEHP's newsletter issue 108. View the online version here.
In this weeks newsletter you will find a couple of videos, a training course, prosecutions & jobs.

[relatedPosts title="Related Posts"]
In association with the Fire Protection Association, Oxford City Council is running bespoke fire risk assessment course. The course is recognised by the Institute of Fire Engineers and will enable you to join that institute as a Fire Risk Assessor. There are a limited number of places available so you will need to act quick if you wish to attend. Full details here.
New Video Content
I have spent some time with Google Hangouts. My aim is to produce regular video content for theEHP, Google+ and YouTube. I have published the following two videos:
I plan to improve the quality of my video content, so please be patience.
I have produced a table of local authority prosecutions that will be used to formulate the prosecution statistics for 2013. Please take the time to check through the list and contact me if you feel I have missed prosecutions undertaken by your council. Please note that there is limited time available to amend your council's prosecution details or submit comments. You can view the draft prosecution statistics here.
2012's statistical release is available below:
You can find all Top 10 Lists here. Below you will find 2013's list so far:
If you would like to submit an article or Podcast to theEHP, Contact Us for details. Looking forward to seeing you at theEHP.
View the latest edition of Just Jobs on theEHP here.
Environmental Protection: Derbyshire man prosecuted for untidy property in Hull
A man living in Derbyshire has been successfully prosecuted by Hull City Council after failing to clear up the garden of a property his owns in Hull.
Environmental Protection: Resident prosecuted for using un-authorised waste carrier
Hull City Council has successfully prosecuted a Hull resident under the Environmental Protection Act 1990 for failing to ensure her waste was lawfully disposed at a licenced facility.
Environmental Protection: Terrible state of Hull property results in prosecution
A Hull man has been prosecuted as a result of refusing to clear up his property.
Environmental Protection: Fines for filthy habits in Hammersmith
Action by Hammersmith & Fullam has lead to 12 prosecutions for littering offenses.
Food Safety: Food hygiene offences result in court fine for restaurant
Rat activity, poor standards of cleanliness, failure to protect food from contamination and a lack of food safety management procedures – some of the conditions found when Powys County Council's Environmental Health Officers carried out an unannounced inspection of Bengal Spices, Ashfield House, Llanymyenech in November 2013.
Food Safety: Takeaway fined for hygiene offences
A Calderdale takeaway has been fined for having poor food hygiene and putting people's health at risk.
Food Safety: Seafront restaurant fined £10,000 for 'utterly repellent' mice infestation
A Brighton restaurant that failed to tackle a mice infestation has been prosecuted for a second time after rodent droppings were found throughout the premises.
Food Safety: Owner fined £10,000 for food hygiene breaches at greasy brasserie
The owner of a Hove brasserie has pleaded guilty to16 food hygiene breaches and was fined over £10,000 by Brighton Magistrates Court yesterday.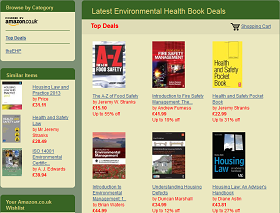 Best environmental health book deals on amazon:
View all Environmental Health Books here. If you think a book should be added to the store, please let us know.
theEHP's Top 10 Environmental Health Books 2013 are available here.
Health & Safety: Barclays fined for health and safety breach
Luton Council health and safety officers have successfully taken legal action against Barclays Bank Plc after a company employee was injured at work.
Housing: Warwick clamps down on licensing of HIMOs
Warwick District Council is clamping down on landlords who fail to manage and licence their properties or comply with licence conditions.
Housing: Vulnerable tenants put at risk by Redbridge Landlord
A Redbridge landlord has been fined £9,000, ordered to pay £3,081 costs and a victim surcharge of £120 for putting vulnerable tenants at risk by renting out a property with unsafe gas and electrical installations.
Public Health: Dangerous Dogs Act offenders can now face tougher prison sentences
Irresponsible dog owners who allow their dog to attack people or assistance dogs will face tougher prison sentences from today.
Public Health: Illegal tattooist prosecuted
Denbighshire County Council has warned illegal tattooists operating in the area that it will not tolerate any of them working against the law.
Training: Fire Risk Assessment Training (Residential Properties)
Oxford City Council is running the above bespoke course, in association with the Fire Protection Association.
You will need to be quick as there are only a limited number of spare places.