Welcome to theEHP's newsletter issue 111. View the online version here.
In this weeks newsletter you will find a webinar, fire deaths statistics, prosecutions & RPT Decisions.

[relatedPosts title="Related Posts"]
Encentre have launched a new service called "Encentre | Benchmark". This new service is a way for local authorities to always be aware of their state of compliance by comparing their performance to others. It is currently available to all local authority food enforcement managers. The best thing about Encentre | Benchmark is that you don't have to do a thing, just sit back and the data will be forwarded to your in-box once a month. Read more about Encentre | Benchmark here.
The Food Safety Culture Webinar
Steve Pepper is organising a Hangout on air Webinar on Food Safety Culture on Tuesday the 5th August at 7.30pm. This Hangout will feature a presentation on Food Safety Culture by Jude Hutchinson. If anyone would like to join the panel then please just message Steve and he will arrange an invite.
You can sign up to the event here.
The previous webinar, 'The Food Hygiene Rating System', is available here. This webinar starts with a presentation by Steve Pepper on the Food Hygiene Rating System and is followed by a discussion of the about the scheme. Length 38:44.
Looking forward to seeing you at theEHP.
View the latest edition of Just Jobs on theEHP here.
Environmental Protection: Two fly-tippers prosecuted in one week
Two men, who committed separate offences, have been successfully prosecuted for fly-tipping by Thanet District Council within a day of each other.
Environmental Protection: Car owner fined over discarded cigarette end
A car owner who refused to answer questions about a discarded cigarette butt that was thrown from his vehicle has been ordered to pay more than £500 by magistrates following a landmark prosecution.
Environmental Protection: Fly-tipper ordered to pay more than £1,000
A tradesman who dumped more than 20 sacks of rubbish on a city street has been hit with a bill for £1,080 after being prosecuted by Stoke-on-Trent City Council.
Environmental Protection: Noise nuisance equipment seized
Equipment was seized from an address at Indells, Hatfield last week as the result of a local initiative to tackle noise nuisance.
Environmental Protection: £1,000 fine for Fly Tipping Builder
A builder has been fined £1,000 for fly tipping two sofas and other household items outside a Wolverhampton factory.
Encentre | Benchmark: Food hygiene data & intelligence
"Encentre | Benchmark" provides a monthly analysis of where your Borough stands in relation to your neighbours and nationally.
Food Safety: Croydon destroys smokies
A van-load of meat was ordered to be destroyed after Croydon Council food safety officers found that it had been illegally slaughtered and was destined for sale to the public.
Food Safety: Takeaway manager fined for breaching food hygiene laws
The manager of a Stamford takeaway has been ordered to pay over £4,000 for persistent breaches of food hygiene laws.
Food Safety: Middlesbrough takeaway owner fined for hygiene breaches
THE owner of a Middlesbrough takeaway has been fined after breaching food hygiene rules.
Food Safety: Takeaway fined for Hygiene Offences
The owner of a Fishguard takeaway has been fined £2,500 for five food hygiene offences.
Food safety: Fishguard takeaway owner fined
The owner of a Pembrokeshire fast food outlet has been fined a total of £3,000 by Haverfordwest Magistrates after admitting to three food hygiene offences.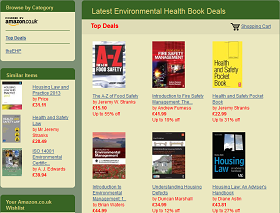 Best environmental health book deals on amazon:
View all Environmental Health Books here. theEHP's Top 10 Environmental Health Books 2013 are available here.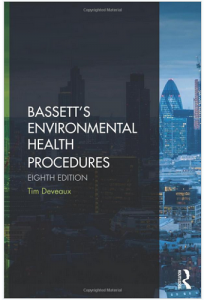 Bassett's Environmental Health Procedures 8th Edition
Environmental health law is a wide-ranging, detailed and complex body of law within the UK. Environmental Health Procedures is an established and essential reference source which provides an accessible entry into enforcement and administrative procedures for environmental health. Available on Amazon from £73.51 (Up to 23% off)
.
Health & Safety: Cornwall Council prosecutes New Life Signs Installations
New Life Signs Installations Limited of 13 Abington way, Queensfield, Swindon, SN2 7S2 has accepted a caution following a hearing on 20 and 23 June 2014 at Bodmin Magistrates Court after admitting offences under Section 3 of the Health and Safety at Work 1974.
Housing: HIMO Energy Issues and Policy
Future Climate and CURE at Manchester University have published a report about energy and fuel poverty policy in relation to Houses in Multiple Occupation (HIMO). The report focuses on energy vulnerability in HIMOs.
Housing: Landlord prosecuted for property in disrepair
A landlord is paying the price for failing to address mould, rotten windows and a collapsing floor at a flat he rented out.
Housing: ONS release 2013-14 fire deaths statistics
Office for National Statistics figures show that fire deaths in England have continued to fall, with 5% fewer deaths than last year, continuing a trend that has seen nearly a 40% drop since 2004.
Housing: £50,000 fine for failing to licence and manage HIMOs
Warwick District Council continues to clamp down on landlords who fail to manage ,maintain and licence their properties.
Housing: Torbay housing prosecution
Torbay Council is once again warning landlords that they must comply with the law and work with the council, where necessary, to improve housing standards or they could face possible prosecution.
Housing: Rogue Landlord pleads guilty to 20 offences
A rogue landlord who manages multiple properties in Nottingham has pleaded guilty to twenty offences (three for failing to licence and seventeen failures to manage houses in multiple occupation (HMOs)). The maximum fine that could have been applied for these offences was £145,000.
Public Health: Cafe owner hauled over the coals for smoking
A Sheffield shisha cafe owner has been prosecuted by Sheffield City Council for allowing smoking inside his premises.
Public Health: Illegal shisha tobacco seized in Leicester
MORE than 100kgs of illegal shisha tobacco has been seized from city businesses after a joint operation conducted by the police, HMRC customs officials and Leicester City Council.
Webinar: The Food Hygiene Rating System
This webinar starts with a presentation by Steve Pepper on the Food Hygiene Rating System and is followed by a discussion of the about the scheme. Length 38:44.
Webinar: Food Information Regulations 2014
This webinar, hosted by Steve Pepper (Food Safety and Health & Safety Consultant), took place on 10th June. He was joined by guests David Newsum (an expert in Food Safety) and Mark Williams (Housing Consultant).
Review: Fire Risk Assessment Training Course
On 27th May 2014 I attended the Fire Risk Assessment training course organised by Oxford City Council, in association with the Fire Protection Association. This is a short review of that course.